Who will bear the costs?
Legal basis for seminar participation
Members of European works councils and special negotiating bodies from countries of the EU as well as from Norway, Iceland and Liechtenstein can request central management for time-off and to cover seminar fees and travel expenses on the basis of article 10 (4) of the Directive 2009/38/EC: "In so far as this is necessary for the exercise of their representative duties in an international environment, the members of the EWC shall be provided with training without loss of wages."
In most cases, the EWC or SE participation agreement explicitly provides for a right to training. As a rule, this also applies to delegates from Switzerland and other non-EU countries.
EWC members from companies which are subject to German legislation, are able to participate under the provisions of § 38 (1) of the German EWC Act.
Some practical and legal questions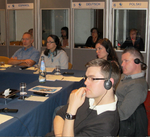 Since June 2011, and provided they are subject to the new legislation, European works councils, as well as special negotiating bodies, have a legal right to training. Previously this only applied to approximately 60% of all European works councils, which had explicitly made such provisions in their agreements. A whole set of questions, however, now arise for the EWC on how the legal right is to be used in practice.
Question 1: Which training courses are necessary in an international environment?
Question 2: Who bears the cost for training, the European management or the local subsidiary?
Question 3: Is the legal right limited to in-house training only?
Question 4: Can central management refuse training requests?
Question 5: Who decides on the selection of the training provider?
Answers to these questions can be found here >>>