Conferences, seminars and workshops
The EWC Academy (and its forerunner organization) have been holding conferences and seminars for members of European works councils, SE works councils and special negotiating bodies since January 2009. So far, employee representatives from 292 companies have taken part including many of them for several times. This represents around 25% of all transnational works council bodies in Europe. In addition there are numerous in-house events and guest lectures given to other organizations.
Overview of forthcoming seminars held in English or with English interpretation:
31 August - 3 September 2021 in Montabaur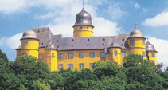 Our annual basic seminar for individual members of European and SE works councils is being organised in Montabaur Castle not far from the high-speed railway station half-way between Frankfurt and Cologne. The following topics (Level 1 and 2) are offered in parallel:
Level 1 – EWC and SE initiation seminar (for beginners)
Level 2 – From a "song and dance act" to a full-fledged consultation body (for advanced)
Programme will follow!